You're invited to State Kids' Camp 2023!
SKC is run by the Baptist Churches of NSW/ACT and is for kids in Years 4-7 at school.
Camp will be packed full of fun, friendship, encounters with God and memory making moments.
3-5 July, Kiah Ridge Conference Centre.
We can't wait to see you there!
Theme
This year's camp theme is 'Who am I'.  Throughout camp we'll be exploring our identity by digging into Colossians 3:12-17.  As God's children we are chosen, forgiven, and deeply loved by God; members of his family, disciples of Jesus, and worshippers.  This year's drama is set in a school playground, and you'll absolutely love meeting the new characters! 
Activities
SKC is packed full of activities.  At the morning and evening main sessions, there's worship, drama, hands-on interactive Bible learning, and plenty of activities with your small group.  You'll also be working on a content creation project throughout the week – you might create a stop motion video, build a lego masterpiece, create a piece of art, or choreograph a dance.  In the afternoons you could be building a volcano, exploring on a bushwalk or trying a new sport.  You'll meet leaders who can teach you new skills, help you make a meaningful difference in the world, or connect you with new friends over a relaxing activity.  Plus, you'll love the night activities!  There's something for everyone at State Kids Camp!
Date, Time & Transport
Camp is two-nights and three-days from 3-5 July.  Camp starts at 10am on Day 1, and concludes at 1pm on Day 3.  If you are coming with a group from your church, chat with your leader about travel arrangements.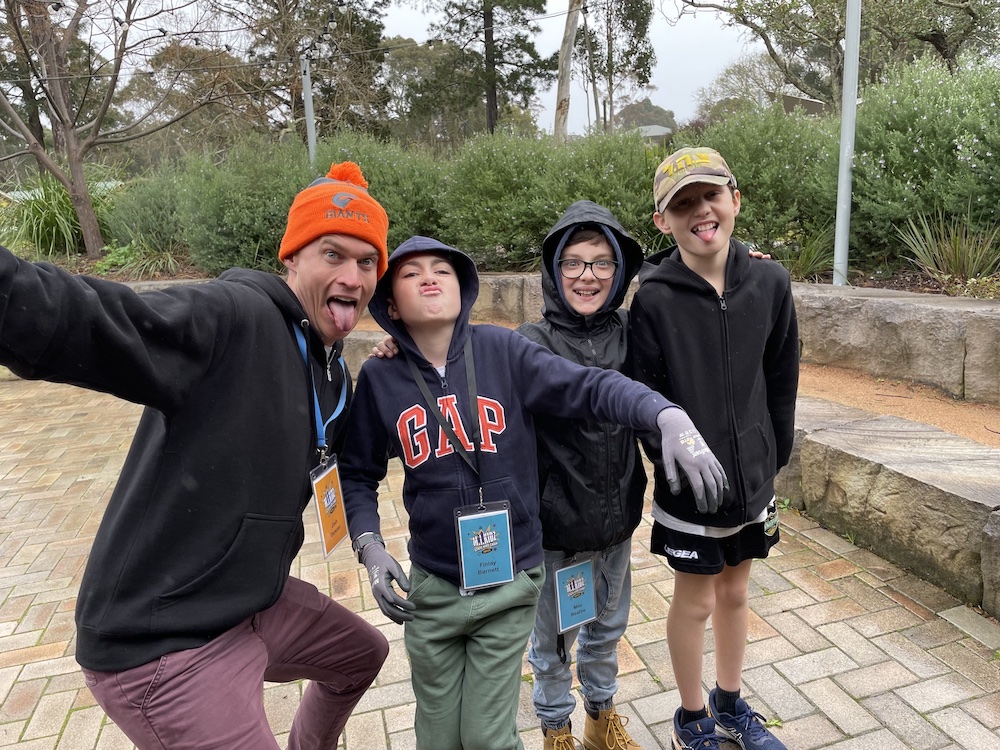 Program
A day at camp might look like this:
8:00     Breakfast
9:00     Main Session | Morning Tea
10:30   Morning Camp Activities
11:30   Small Group Activities | Lunch
1:30     Content Creation
2:30     Afternoon Camp Activities | Afternoon Tea
4:00     Downtime Activities | Dinner
6:30     Main Session
7:45     Night Activity
Registration
You can register for State Kids Camp here! The cost for the camp is $280, and includes all meals and snacks, accommodation in cabins, all activities and supplies, and a camp tote bag.
Prior to camp, a form will be sent out which will allow you to list any dietary requirements in full.  This is a separate part of the registration process closer to the camp date.  There will also be a designated person at camp responsible for overseeing any medication.
We take child safety seriously, so all leaders at camp are screened and trained.
Leaders
If you would like to be a leader at camp, we'd love to hear from you!
Leaders (18+) have the opportunity to lead a small group of 6-7 kids through the pre-organised camp program.  As a leader, you'll be assigned a cabin of kids (but you'll sleep in a separate cabin with other leaders), and will lead them through all the camp activities.  There will be a 1.5 hour training session on Zoom in the lead up camp.  There's no prep to do in advance, and everything will be provided for you.
Fill in the expression of interest form, or get in touch with any questions you might have!
Location
State Kids Camp is being held at the beautiful Kiah Ridge Conference Centre.
Kiah Ridge is located at 25 Bargo River Road, approximately 5 minutes driving time from Tahmoor town centre and about 10 minutes driving time from the Bargo/Tahmoor exits from the Hume Highway.
SKC22 Recap
Interested in seeing a bit more of what goes on at State Kids Camp?  Watch last year's recap video!
Do you have questions about camp?  Speak to the kids leader at your church, call us on (02) 9868 9200, or email Kaye (kryan@nswactbaptists.org.au).